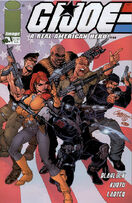 G.I. Joe A Real American Hero was a comic book series published by Devil's Due. It is the continuation of the story established in Marvel's A Real American Hero.
The series started with the reinstatement of G.I. Joe and lasted for 43 issues until it was revamped to become America's Elite.
Issue Summary by Story Line
1-4 - Reinstated
5 - Solo Duke Story (Prologue to Reinstated)
6-9 - Reckonings
10-13 - Malfunction
14-15 - Bazooka, Alpine,and Mutt stumble upon Cobra Town
16 - Prelude to the Return of Serpentor
17-19 - Flint, Baroness Story
20-21 - Snake Eyes, Storm Shadow Story
22-25 - The Return of Serpentor
28-33 - Players and Pawns
34 - Hawk solo issue
35 - Wraith vs. Snake Eyes
36-41 - Union of the Snake
42-43 - Rise of the Red Shadows
Devil's Due Issue Summaries
Where's the rest of the information??!!
---
This article is a stub and is missing information. You can help Joepedia by expanding it.