Where's the rest of the information??!!
---
This article is a stub and is missing information. You can help Joepedia by expanding it.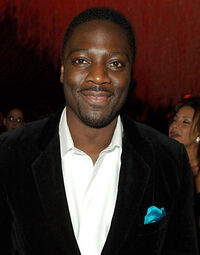 Adewale Akinnuoye-Agbaje plays the part of Heavy Duty in The Rise of Cobra.
Summary
Adewale Akinnuoye-Agbaje was born on August 22, 1967 in London, England. Adewale has a masters in Law from the University of London, but chose a different path when he chose acting. Adewale began his career as a model in Milan before moving to Los Angeles to make the transition to acting. The son of Nigerian parents, Adewale has often been cast as African characters, and employs a deep Nigerian accent while in such roles. Adewale, however, speaks naturally with a Cockney accent. Adewale may be best known for his character of "Mr. Eko" on Lost. He is also known for his portrayal of the fierce super criminal Simon Adebisi, in HBO's original series, Oz. An active Buddhist, Adewale is fluent in several languages including English, Italian, Yoruba, and Swahili, and is also knowledgeable in other languages, such as French.
He also worked on Stephen Sommer's previous film, The Mummy Returns as Lock-Nah which also stared Brendan Fraser, Arnold Vosloo, and Dwayne Johnson.
External Links
Community content is available under
CC-BY-SA
unless otherwise noted.