The name Alley Viper refers to several versions of the same character.
For a list of the other versions, see Alley Viper.
We need visual confirmation
---
This article is in need of images.
Alley Vipers are Cobra characters from the A Real American Hero series.

Fiction
A Real American Hero comics continuity
Marvel Comics continuity
Write up

Devil's Due Comics continuity
Write up

Animated continuity - DiC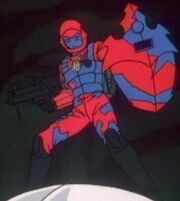 Alley-Vipers first appeared and spoke in
Operation: Dragonfire
part 2. They also spoke in parts 3, 4 and 5 and this, not counting it being a parter episode, is the only episode they speak in.
Toys
Generation 1
A Real American Hero (1989)

Alley Vipers were introduced in the 1989 series of A Real American Hero toys.

---


Appearance: orange helmet with blue face mask; orange shirt and pants with blue urban camo; blue right armband; black gloves and boots


Accessories: orange and blue face shield with Cobra emblem on front; black backpack with engraved grappling hook rifle and removable grappling hook; complex black machine gun with scope, T-shaped stock, and rear-mounted magazine; orange and blue shield with Cobra emblem and handle.

---

Battle Corps (1993)

Alley Vipers return in the 1993 series of A Real American Hero toys, as figure #6 in the Battle Corps.

---


Appearance: black helmet with yellow face mask; yellow shirt with black chest armor, wristbands, and gloves; yellow pants with black straps and boots


Accessories: crested black catlike face mask attaching to helmet; black "Dial-Tone" submachine gun; black "Alley Viper" machine gun; short, yellow spring-loaded missile launcher with trapezoidal back, small centered grip, and black trigger; two black missiles with ball-like tips; black shield shaped like Cobra emblem, with clip for arm.

---
Trivia
Alley Vipers appear as regular enemies in the NES Taxan game G.I. Joe solely on section 4-1.
See also
External links
Write up

Footnotes
Is this all there is?!!
---
This character article is a stub and is missing information. You can help Joepedia by expanding it.
Community content is available under
CC-BY-SA
unless otherwise noted.