The description as described in Devil's Due's solicitations is as follows:
Imagine the most elite, highly-trained special missions squad ever created. Now imagine them without morals, scruples, or conscience. That's The Plague, selected from the ranks of Cobra and sent to hunt G.I. Joe!
Issue summary
Featured Characters
Featured Vehicles & Equipment
Errors
Trivia
Items of note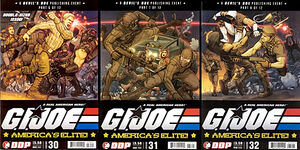 Footnotes
You call this a report??!!!
---
This comic issue article is a stub and is missing information. You can help Joepedia by expanding it.
Community content is available under
CC-BY-SA
unless otherwise noted.