The Combat Heroes line is the GI Joe entry into Hasbro's "Heroes-scale" series of adorable, little-kid-friendly lines of characters from popular franchises. It was preceded by Star Wars Galactic Heroes, Marvel Superhero Squad, Transformers Robot Heroes, Indiana Jones Adventure Heroes and Toy Story Toy Chest Heroes.
Each Combat Heroes figure is approximately 2" tall and constructed of soft, pliable PVC plastic. The characters are sculpted in a super-deformed style, with exaggerated limbs and expressions (for those characters with visible faces). Articulation is limited to just a few points: typically swivels at the neck, shoulders and waist, though some figures have more joints and some, usually the female characters, have less. The poses are fairly dynamic, on par with the Superhero Squad toys rather than the relatively static Galactic Heroes.[1]
So far all the figures are based on the G.I. Joe: A Real American Hero versions of the characters, but movie versions were unveiled at Toy Fair 2009. Beginning with Series 2, the sets included a pack-in catalog with a "G.I Joe vs. Cobra: what would YOU do?" comic on one side, similar to the "Now you know..." segments on the original cartoon, but aimed at the toys' stated pre-school demographic.[2]
At New York Comic-Con 2009, IDW Publishing announced a comic based around the Combat Heroes toyline, slated for publication starting in May 2009. It will be written by Andy Schmidt, and published alongside a Robot Heroes comic, also by Schmidt.
Real American Hero
Exclusive Preview
Released at SDCC 2008
Series 1
Released October 2008
Series 2
Released February 2009
Series 3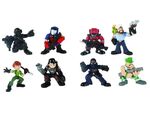 Unreleased
Note: In March 2009, it was announced that all retailers' orders for Series 3 of the Combat Heroes had been cancelled, as the line was postponed until at least after the movie.
Rise of Cobra
Series 1
References