The name Cutter refers to several versions of the same character.
For a list of the other versions, see Cutter.
Cutter is a G.I. Joe character from the A Real American Hero series.


If there is one word to describe Cutter, it would have to be persistent. He actually wrote to his congressman for an appointment to get into Annapolis for two years! In the end, he realized his family lacked power and influence. That didn't stop him, he decided to join the Coast Guard Academy in Connecticut instead. That same persistence made him one of the best Coast Guard patrolmen and netted a good number of drug smugglers. When he learned the G.I. Joe Team didn't even have one Coast Guard representative, he badgered the top brass so much until they pulled all the strings just to get him in and shut him up.
Being from Kansas, it's awfully strange that he would find himself right at home at sea. Even the story of how he fell in love with the sea at age 14 on one family trip to Florida doesn't seem to explain it either. Cutter is defined by his iron will, contrary nature and quirky sense of humor. That is the closest explanation any could come to.
Fiction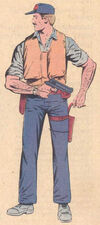 Comics
A Real American Hero continuity
Marvel Comics continuity
Write up

Devil's Due Comics continuity
Write up

Action Force (British) Comics continuity
Cutter was part of an Action Force team who enabled the defection of a Soviet officer, despite interference by both Cobra and the Oktober Guard.[1] He was then part of a team that was tricked into attacking an oil rig belonging to Destro, but was subsequently freed by Quick Kick.[2] He subsequently undertook further missions for Action Force in the Americas.[3]
Cutter was later part of a team on a mine clearing operation in the Persian Gulf who cam under attack from a Cobra Rattler but fought off the plane.[4] He was also part of a team who travelled to Vietnam after Gung-Ho went in search of his former comrades.[5] Cutter was then part of a W.H.A.L.E. crew captured by a squad of Cobras seeking a Tactical Analysis Computer System (T.A.C.S.) unit to discover Ministry of Defence secrets. The team escaped and destroyed the device before it could be used.[6]
Animated continuity
Sunbow animated series
Voiced by: Gregg Berger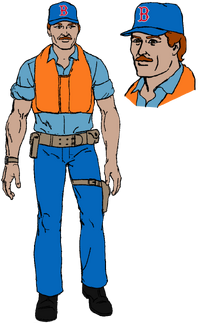 Toys
Generation 1
A Real American Hero (1984)

Cutter was originally packaged with the W.H.A.L.E. hovercraft toy and released in 1984. He didn't come with any accessories though you could say the hovercraft itself is already impressive.

---

Appearance: blue baseball cap with red "B"; red hair and mustache; light blue short-sleeved shirt with open collar; orange life jacket; dark blue bell-bottom pants; green belt, holster, and watch; black shoes

Accessories: none

Variations: Cutter's hair color can range from red-brown to nearly black.

---

Drug Elimination Force (1992)

Cutter becomes part of the Drug Elimination Force set in 1992. He was released in single carded form.

---

Appearance: red hair and mustache; blue cap; orange lifejacket with black details; blue pants with white belt; black boots with white coverings

Accessories: white submachine gun with retracted stock, trigger guard, and thick magazine; long, white telescope attaching to leg; transparent orange, spring-loaded grappling hook launcher with detachable white tripod; white grappling hook with curved ends and black string.

---

A Real American Hero (1993)

A recolored version of Cutter's 1992 action figure was packaged with the Shark 9000 in 1993. The set as a whole was meant to be part of a second year of Drug Elimination Force toys that did not happen.

---

Appearance: red hair and mustache; black cap; green lifejacket with yellow details; white pants with blue belt; light brown gloves; black boots

Accessories: black "'92 Cutter" submachine gun.

---

The Real American Hero Collection (2001)

The original 1984 Cutter mold is used for his 2001 action figure. This version was packaged with the Night Landing Craft as part of the Real American Hero Collection.
Trivia
Working names for the character who would become Cutter include Speed-Boat, Drydock, Hurricane and Cruiser.[7]
See also
External links
Footnotes
Is this all there is?!!
---
This character article is a stub and is missing information. You can help Joepedia by expanding it.
Community content is available under
CC-BY-SA
unless otherwise noted.