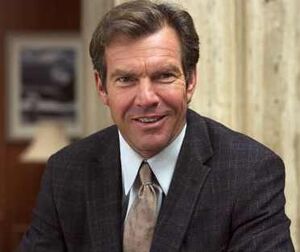 Dennis Quaid is an American actor who portrayed Hawk in G.I. Joe: The Rise of Cobra.His 16-year old son was the primary reason in his decision in taking on the role of [1]
Career
Dennis Quaid is the brother of Randy Quaid. Because of him, Dennis pursued his own path in acting. Dennis Quaid is no stranger to the action and sci-fi Enemy Mine and Innerspace and as some of his early films were from these genre. But he also gained reputation as a dramatic actor with films like Great Balls of Fire!, Postcards from the Edge, Breaking Away, Come See the Paradise and Far From Heaven.
External links
References
Where's the rest of the information??!!
---
This article is a stub and is missing information. You can help Joepedia by expanding it.
Community content is available under
CC-BY-SA
unless otherwise noted.