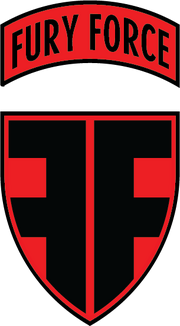 Fury Force
is the name of an unrealized paramilitary strike team created by
Larry Hama
and was the source for some of the material for the early
A Real American Hero comics continuity
.
Publication History
In 1981, Larry Hama was working on a new pitch for Marvel Comics. Nick Fury, Jr., son of the head of S.H.I.E.L.D., was the leader of a top-secret, seven-member, elite strike force who had a headquarters in sub-basements below the Chaplain's quarters.  At some point, he had told Editor-in-Chief Jim Shooter what he was working on, but it was not yet ready for publication and no assets had been committed to it.
After securing the license from Hasbro, Shooter talked to Hama about working on G.I. Joe and they agreed many of the ideas from Fury Force could be adapted to G.I. Joe.
In an interview at QKTheatre.com, Hama said:
There were a lot of holdovers from the 'Fury Force' concept that I had been developing for Marvel at the time. The whole idea of a secret base under a motor pool, for instance. I even had a "Snake-Eyes" type character, who didn't speak, had his face covered with a cowl and was a mysterious assassin type. He carried a pump shotgun and a commando knife in his boot and was actually inspired by the Pahoo-Ka-Ta-Wah (Wolf Who Stands in Water) character in the old 'Yancy Derringer' TV show.
Action Figures
In 2009, Joe Customs used the original character designs and basic biographies to flesh out the characters, and sell the custom figures, a motorcycle, and a Fury Force patch signed by Larry Hama, at a charity auction.
Team Members
Sgt. Fury - Son of a French Resistance fighter and WWII veteran/CIA agent/head of SHIELD. Leader of Fury Force. Precursor of Hawk (RAH).
Brujo - Mexican-American communications wizard.
Jelly - Precursor to Stalker (RAH) and Short-Fuze.
Louie Louie - Asian-Hawaiian ordinance and logistics expert. Possible precursor to Tunnel Rat (RAH).
Shadow - Real Name: Lila Galil. Lone female. Intelligence specialist. Forerunner to Scarlett (RAH).
Spook - Vietnam vet Spook, who'd been burned and wore bandages, was the precursor to Snake-Eyes (RAH).
Steeler - Heavy weapons. Precursor to Rock 'n Roll (RAH) and … well, Steeler (RAH).
Gallery
External Links
Community content is available under
CC-BY-SA
unless otherwise noted.