G.I. Joe: The Rise of Cobra
Production information
Developer

Double Helix Games (PS2/PS3/PSP/X360/Wii)
Backbone Entertainment (DS)

Publisher
Platform/console

Microsoft Windows, Nintendo DS,[1] PlayStation 2, PlayStation 3, PlayStation Portable, Wii, Xbox 360,[2] Mobile phone[1]

Release date
General information
Continuity
G.I. Joe: The Rise of Cobra is the title of a video game based on the film of the same name, but actually introducing a new storyline that takes place after the film.
Gameplay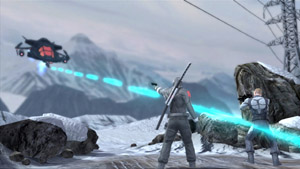 Among the classes included for the various characters in The Rise of Cobra include "Commando" who do well at close range, "Heavy Weapons" who possess extraordinary shooting skills but do it best from a distance and "Soldier" who are a balance between the two. The classic "Yo Joe!" battle cry is in the game, being used as an invulnerability power-up when the G.I. Joe character gains access to the Accelerator Suit, allowing them to be undamaged while attacking Cobra troops and vehicles.
Appearances
Cameos
Plot summary
After the Events of G.I. Joe: The Rise of Cobra, Duke and Scarlett travel to the Arctic and free Heavy Duty, Ripcord and Snake-Eyes from the M.A.R.S Detention Center. Also, they fight the Baroness and bring her to the Pit. In Egypt, the Joes learn that Cobra are taking the Apep (gem) and defeated Firefly. In the jungle, the Joes learn that Cobra has been building a pyramid and also defeated James McCullen (now taking the identity of Destro) on the rooftop of The Pyramid Building. Finally, they defeated Cobra Commander and Storm Shadow at the North Pole Volcano Base.
Other notes
Voice-over cast
Reception
The game received poor scores. The game is holding 44 out of 100 from Metacritic.[4]
IGN.com gave the main console version a 5.8 / 10[5], criticizing the game's bad graphics and bad gameplay. IGN also gave the DS version a positive 7.1 / 10 [6].
G4TV's X-Play gave the game a 1 / 5, saying, "G.I. Joe: The Rise of Cobra is the new gold standard for lazy and uninspired cash-in licensed games. It could perhaps be argued that the developers didn't have much to work with given the source material, but that doesn't help the unfortunate consumer who ends up stuck with this Junkyard Dog of a game in his collection." [7]
References
External links
Community content is available under
CC-BY-SA
unless otherwise noted.