The name Grand Slam refers to several versions of the same character.
For a list of the other versions, see Grand Slam.
We need visual confirmation
---
This article is in need of images.
Grand Slam is a G.I. Joe character from the A Real American Hero series.


Grand Slam has a life-long fascination with technology born out of his love for science fiction stories and comic books. He also has a passion for ancient artillery and one of his hobbies involved miniature recreations of catapults, trebuchets and cannons. It is also a hobby that got him in trouble on occasion with those less patient with his practical jokes, he hurled small stones and papers with these working miniatures. Nevertheless, he became an expert in calculating distance and trajectories, the necessary elements in artillery work.
He studied electronics engineering before enlisting. One of his primary reasons for joining the military was that it was one organization that is always on the forefront of technology. While a science geek at heart, he is also very much a man of action as he has become an expert with operating the H.A.L. laser cannon and flying around with the J.U.M.P. jet pack.
Fiction
Comics
A Real American Hero continuity
Marvel Comics continuity
Grand Slam is a member of the original roster of G.I. Joe members. One of his earliest chronicled missions is the rescue of Dr. Adele Burkhart from Cobra. He provided artillery support for his teammates while putting up with Clutch's crazy driving.[1]
Devil's Due Comics continuity

Write up
G.I. Joe Reloaded
Write up

Toys
Generation 1
A Real American Hero (1982)

Grand Slam's first action figure was a part of the first series of A Real American Hero toys in 1982. He was released as part of the H.A.L. laser cannon package.

---

Appearance: brown hair; dark-green shirt with silver red-padded vest; black gloves; dark green belt and red-padded pants over black boots.

Accessories: dark green "Breaker" helmet; clear visor. (Prototype visor was black.)

---

A Real American Hero (1983)

Grand Slam was repackaged in 1983 as part of the J.U.M.P. jet pack toy. The second figure used the same mold as the previous figure but with a different color scheme used.

---

Appearance: brown hair; dark-green shirt with silver padded vest and silver on arms; black gloves; dark green belt and silver-padded pants over black boots

Accessories: dark green "Breaker" helmet; clear visor

---

Generation 2

Direct-to-Consumer (2006)

In 2006, a limited edition Grand Slam action figure was available for order direct from online vendors, albeit using the mold of Sgt. Bazooka. Eventually, the figure was available in Toys "Я" Us stores.

2007 International G.I. Joe Convention

The 2007 G.I. Joe Convention released a few exclusive toys. Among them was a two-pack of Grand Slam and Edward "Starduster" Skylar.

Generation 3

Attack on Cobra Island (2008)

Target stores managed to gain exclusive rights for select toys. Grand Slam was packaged together with the Night Specter vehicle. The Grand Slam figure itself used the same mold as 25th Anniversary Flash.
Trivia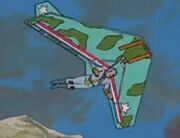 Grand Slam appears briefly riding a Falcon glider in the opening title sequence of the first G.I. Joe miniseries, but never actually appears in the show, making him one of only three characters released in the first five waves of the original toy line - along with Keel-Haul and the "Special Mission: Brazil" exclusive Claymore - not to do so.
Larry Hama's preliminary filecard for Grand Slam had a quote at the bottom from Breaker: "...shoot--'ol Slam, he's a wily one... always got that look in the eye like he's not there, but look out! He's got the whole shootin' match covered. When Grand Slam is layin' down the ol' cover fire, heck--ain't nobody got nothin' to worry about. You writin' all this down?"[2]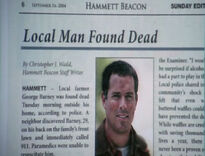 The Season 5 episode of the CBS television program NCIS that aired October 16, 2007 - "Identity Crisis" - assigned many of the guest stars and incidental characters the names of G.I. Joe characters. The name George Barney was used for a man who had died several years prior. An uncredited actor provided the photo of Barney.
See also
External links
Footnotes
Is this all there is?!!
---
This character article is a stub and is missing information. You can help Joepedia by expanding it.
Community content is available under
CC-BY-SA
unless otherwise noted.