"All we had to do was move them a mile across the desert!"
---
This page was recently disambiguated and needs its links fixed. Please see what links to "Lamprey" and make sure they're all pointed to Lamprey (RAH).
We need visual confirmation
---
This article is in need of images.
Lampreys are Cobra characters from the A Real American Hero and G.I. Joe vs. Cobra series.

Lampreys are the elite of Cobra's naval force. They are hand-picked from the best of the Eels but are given even more rigorous training that often involves diving in shark-infested waters and the frigid depths of the Arctic. The intense course often forces more than fifty percent of the applicants to wash out. The result is a trooper that may be considered the true Cobra equivalent of the US Navy S.E.A.L., capable of engaging in amphibious operations and defending Cobra's coastal and underwater outposts.
Fiction
Comics
A Real American Hero continuity
Marvel Comics continuity
   Write up

Devil's Due Comics continuity
   Write up

Action Force (British) Comics continuity
A Lamprey by the name of Thornton was the son of a Second World War Nazi pilot. His father's plane was shot down at sea. Many years later Thornton, in his civilian identity, paid for the plane to be raised to the surface as unbeknownst to others the plane contained Nazi gold. However observing the raise was Shipwreck who discovered the gold. Thornton and another Lamprey sought to kill everyone else at the operation and take the gold, but Shipwreck survived and sabotaged the flotation balloon cables, sending them to a watery grave.[1]
Animated continuity
Sunbow animated series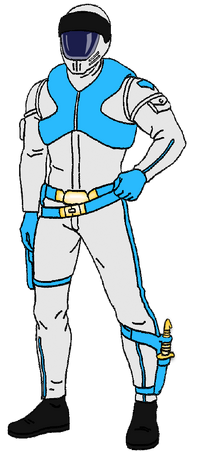 Write up

Toys
Generation 1
A Real American Hero (1985)

The original Lamprey action figure was packaged with the Moray hydrofoil, sold as part of the A Real American Hero's 1985 series.

---

Appearance: silver mask with black raised visor and light blue faceplate; silver jacket with light blue life jacket and gloves; silver pants with light blue belts; black shoes.

Accessories: silver submachine gun with wavy strap and handle on side.

---

A Real American Hero (1991)

Lamprey was sold in carded form as part of 1991's Sonic Fighters subset of the A Real American Hero toys. In some areas the figure was available in late 1990.

---

Appearance: blue helmet with red faceplate; bright orange jacket with blue life jacket and gloves; bright orange pants with blue belts; brown shoes

Accessories: black Sonic backpack with short antenna on top; black "Blaster" laser gun; black "Shockwave" submachine gun; black "Spearhead" bayonet rifle; black "Gnawgahyde" sniper rifle.

---
The Real American Hero Collection (2000)
Another recolor was sold as part of the Real American Hero Collection's 2000 release. Lamprey was bundled together with the Man-O-War submarine.
And yet another recolor of Lamprey is sold as part of Toys "Я" Us-only exclusive set, the 2003 edition of Python Patrol group.
Trivia
 Write up

See also
External links
 Write up

Footnotes
Is this all there is?!!
---
This character article is a stub and is missing information. You can help Joepedia by expanding it.
Community content is available under
CC-BY-SA
unless otherwise noted.