This is a Korean name; the family name is Lee.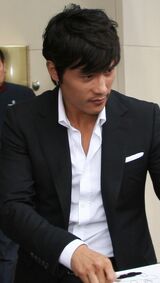 Byung-hun Lee is a South Korean actor who portrays Storm Shadow in G.I. Joe: The Rise of Cobra and sequel G.I. Joe: Retaliation.
Career
He is most famous for acting in Park Chan-wook's Joint Security Area and Kim Ji-woon's A Bittersweet Life. He was born in Seoul.
Lee made his debut in 1991, starring in the television drama Asphalt My Hometown. Lee's later movie, Joint Security Area, was a smash hit, surpassing the box office benchmark set by Shiri. After Lee's role in Bungee Jumping of Their Own, his acting talent gathered widespread recognition.
Lee has recently played a part in the movie Everybody Has Secrets with Choi Ji Woo, Chu Sang Mi and Kim Hyo Jin, a movie about three sisters who fall in love with Lee Soo-hyon. Soo-hyon falls in love with one of the sisters, leaving the other two heartbroken. The movie has reached a very high bid of US$5.5 million in Japan. However, the box-office profit of his movie was low in Japan.[1] A Bittersweet Life, released in 2005, was well received by critics.
In 2005, Lee released his biographies Limited, Brave and Human during his visit to Singapore, a 3-DVD collection in which he talked about his life and acting career.
His likeness was used for the main character in the Capcom videogame Lost Planet: Extreme Condition which was released on January 12, 2007.
In December 2007, it was confirmed that Lee was cast as the villain Storm Shadow in the upcoming live-action Rise of Cobra film. This is his Hollywood debut film. He also released a self-album in 2008; the song called "Itsuka" ("One Day") that he sang in Japanese ranked 3rd in Korea.[2]
Lee is fluent in English and able to speak French and Mandarin, in addition to his native Korean. He also has a Westernised name, Brian.[3] and he started Red 2 with Bruce Willis for second time after Retaliation
Personal life
Lee is a Buddhist.[4]
Lee's younger sister, Lee Eun-Hee, is eight years his junior. She was the 1997 Miss Korea.
in August 10, 2013 Lee married his longtime girlfriend Lee Min-jung who best known as her supporting role in Korean version of Boys Over Flowers and lead role for  All About My Romance
External links
References