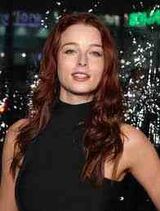 Rachel Emily Nichols is an American actress who portrays Scarlett in G.I. Joe: The Rise of Cobra.
Biography
Nichols was born January 8, 1980, and raised in Augusta, Maine, where she attended Cony High School. After graduating from Cony, she attended Columbia University in New York. She began modeling during her time at Columbia, which included doing photo shoots in Europe. In 2000, she appeared as a model in the film Autumn in New York.
Although she intended to study psychology when she initially began attending Columbia, Nichols ultimately took up drama courses and opted to pursue a career in acting in 2002. She made her television debut that same year in an episode of HBO's Sex and the City. Shortly thereafter, she received her first major film role, playing the female lead in the 2003 comedy Dumb and Dumberer: When Harry Met Lloyd. That same year, she was ranked #28 in Maxim magazine's "Top 100 Sexiest Women."
Nichols later had supporting roles in the 2005 remake of The Amityville Horror. Nichols was nominated for both an MTV Movie Award and a Teen Choice Award for her work in this film. She also appeared in the 2005 film Shopgirl. After a supporting role in the 2006 drama The Woods, Nichols co-starred with Teri Hatcher in the 2007 drama Resurrecting the Champ. She then played the lead role in the 2007 horror/thriller P2.
Nichols was next seen in the 2007 political drama Charlie Wilson's War. Nichols was most recently seen in a bit part as Galia, the Orion Starfleet cadet in J.J. Abram's Star Trek (2009).
Nichols married Universal Pictures film producer Scott Stuber in Aspen, Colorado, on 26 July 2008.[1] Seven months later, they announced their divorce, citing irreconcilable differences.[2]
Trivia
Nichols, a blonde, plays Scarlett, a redhead. Nichols dyed her hair red for her previous film Star Trek.
Nichols burned herself, and Sienna Miller sprained her wrist, while shooting a fight scene between Scarlett the Baroness.
External links
References