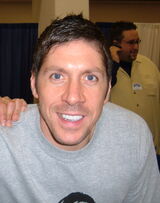 Ray Park is a British actor and stunt man who portrays Snake-Eyes.[1] in G.I. Joe: The Rise of Cobra and G.I. Joe: Retaliation. He also worked with IDW Publishing as a co-writer about expanding the character's story in a spin-off comic book mini-series.[2]
Career
Park has shot to fame for his portrayal of Darth Maul in Star Wars: Episode I - The Phantom Menace. He is also an accomplished martial artist who has won several awards in many tournaments. He began working in movies as a stunt double for the movie Mortal Kombat: Annihilation, doing the stunts for both Robin Shou and James Remar. Park also did some cameos as monsters, including Baraka. All of these were non-speaking roles. In addition to this acting work, he has also been Christopher Walken's stunt double for the movie Sleepy Hollow. Park appeared in the scenes where the Headless Horseman appears without his head. Park had his first real speaking part in X-Men as Toad. In one scene of this film, after sending Storm (Halle Berry) down an elevator shaft, he picks up a length of pipe and swings it around in much the same way he swung his dual-bladed lightsaber as Darth Maul, a signature wushu movement.
External links
References
Community content is available under
CC-BY-SA
unless otherwise noted.