Red Dog is a G.I. Joe character from the A Real American Hero series.

Fiction
Animated continuity - Sunbow
Voiced by: Poncie Ponce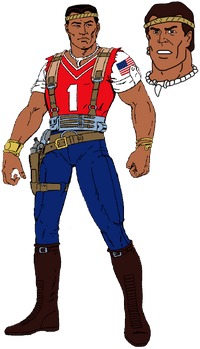 Red Dog was a member of The Renegades, a team that Sgt. Slaughter commanded. Little background is given on him, except that he was booted out of pro-football for unnecessary roughness.
A Real American Hero comics continuity - Devil's Due
Toys
Sgt. Slaughter's Renegades (1987)

Red Dog was first released in a special three-pack along with Mercer and Taurus for the 1987 series of A Real American Hero toys.

---

Appearance: black curly hair; gold headband, tooth necklace, and wristbands; red sport shirt with "1" on front; white short sleeves; blue pants with brown belt and holster; black boots

Accessories: reddish brown "Dusty" backpack; dark grey .45 caliber pistol with long hammer and trigger some distance from grip.

---

Convention exclusive (2006)


Slaughter's Marauders (2012)


YoJoe.com page/Filecard
Trivia
Like his fellow Renegade Taurus, Red Dog is depicted in the G.I. Joe Movie as fighting with a melee weapon in addition to a firearm, in this case some sort of wooden sports tool. The figure, however, did not come with this item.
Red Dog's last name comes from Cape Taputapu, on the main island of Samoa.
See also
External links
   Write up

Footnotes
Is this all there is?!!
---
This character article is a stub and is missing information. You can help Joepedia by expanding it.
Community content is available under
CC-BY-SA
unless otherwise noted.