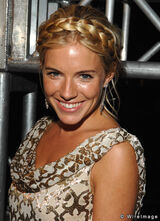 Sienna Miller is a British-American actress who portrays the Baroness in G.I. Joe: The Rise of Cobra.
Career
Miller made her film debut with South Kensington In 2001, with Rupert Everett and Elle Macpherson. Her next projects were High Speed and The Ride (aka Joy-Rider) in 2002. In 2003, Miller was the female lead in Simon West's television action drama series Keen Eddie. Miller had supporting roles in the remake of the 1966 film Alfie starring Jude Law in 2004. In the same year, she made Layer Cake with Daniel Craig. In 2005, she made her professional stage debut as Celia in a West End production of Shakespeare's As You Like It alongside Helen McCrory and Dominic West. She understudied the lead role of Rosalind, which she played for one performance, when McCrory fell ill.
Later that year, Miller played the female lead opposite Heath Ledger in the period drama, Casanova, followed by what is known as her breakthrough role portraying 1960s socialite and Andy Warhol's muse Edie Sedgwick in the film Factory Girl, which opened December 29, 2006. In 2007, Miller played a small role opposite Michelle Pfeiffer and Robert De Niro in Matthew Vaughn's fantasy epic Stardust, based on the book by Neil Gaiman.
Behind the scenes
Miller was unhappy with Hasbro's first pass at her action figure, and had Hasbro re-do a part of the likeness. The part? The figure's behind.[1]
Rachel Nichols burned herself, and Miller sprained her wrist, while shooting a fight scene between Scarlett and the Baroness.
To prepare for her role as the Baroness, Sienna Miller spent four months in weight training and boxing, and learned to fire live ammunition.
Miller took the role of the Baroness because it did not involve "having a breakdown, or addicted to heroin, or dying at the end; it was something that was just maybe really great fun."
References