We need visual confirmation
---
This article is in need of images.
Zanzibar is a Dreadnok character from the A Real American Hero series.
A Dreadnok so nasty that he is detested by the rest, Zanzibar was raised on a garbage scow, and spent most of his formative years as a pickpocket in crowded ports. He's lived as a river pirate, smuggler, and even a con man in the stocks and bonds trade. When he tried to steal back a tanker of stolen gasoline that he once sold to Zartan, he made an impression with the Dreadnok leader. Rather then be swindled again, Zartan decided to place him on retainer so he could at least keep an eye on him. Zanzibar overplays the role of a pirate to the letter, raiding waterways aboard his nimble air skiff with a surplus of bluster. Many suspect the eye patch is simply an affection.
Fiction
A Real American Hero comics continuity
Marvel Comics continuity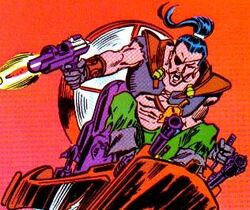 Write up

Devil's Due Comics continuity
Write up

Action Force (British) Comics continuity
Zanzibar then went to the Australian desert along with fellow Dreadnoks Buzzer, Monkeywrench, Thrasher and Road Pig. For many months they were pursued by Outback, who finally captured them at a remote bar, with the help of Psyche-Out.[1]
Toys
Generation 1
A Real American Hero (1987)

Zanzibar was released as part of the 1987 series of A Real American Hero toys, packaged exclusively with the Air Skiff. He was also sold in 1988, then was discontinued domestically in 1989.

---

Appearance: black hair with ponytail and mustache; black eyepatch; torn orange-brown shirt with purple and silver shoulder armor; gold wristbands and brown gloves; green pants with brown belt and orange-brown codpiece; purple cloth around left leg; black boots

Accessories: black gun with trapezoidal barrel, no trigger guard, and angled grip; long, brown barbed spear; brown sledgehammer (both sometimes considered parts of the Air Skiff).

---
Trivia
The name "Morgan Teach" is a reference to two famous pirates, Henry Morgan and Edward "Blackbeard" Teach.
Zanzibar is an island that is part of the east African country of Tanzania.
The toy's rooted hair is very strong, and will not fall out easily.
Working names included "Dog-Day," "Top-Knot" and "Keel Haul."
See also
External links
Write up

Footnotes
Is this all there is?!!
---
This character article is a stub and is missing information. You can help Joepedia by expanding it.
Community content is available under
CC-BY-SA
unless otherwise noted.